Anti-Fatigue Matting
Standing or walking for continuous periods of time is the reason for many health related problems. Prolonged standing on hard substrates can result in ligament damage and/or circulatory and back issues. Based in Staffordshire, we have been providing a wide variety of flooring solutions to businesses across multiple sectors. We also cover Birmingham, Coventry, Derby, Nottingham and Leicester.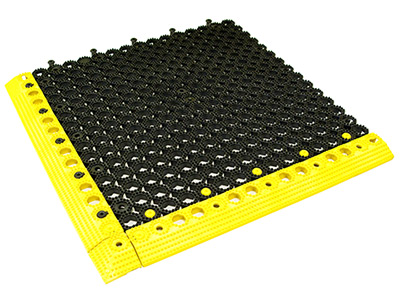 Good quality anti fatigue matting is one of the most effective ways to protect your workforce in relation to absorbing the daily shocks the body is exposed to whilst walking or standing throughout the working day. With a wealth of industry experience, at Relay Floor Systems Ltd we provide a wide range of anti fatigue matting that can be customised to suit the space you have available and your individual needs.
It is a matter of medical fact that the absence of such anti fatigue matting can result in stress related injuries to joints, limbs and muscles, resulting in loss of manpower and ultimately revenue for many businesses. Investing the time into keeping your workforce happy is typically rewarded with employees feeling motivated, while carrying out tasks to the best of their ability.
Relay Floor Systems Ltd supply a range of designs and compounds to cover the large majority of applications and budgets across the midlands. If you are based in Birmingham, Coventry, Derby, Nottingham or Leicester, we welcome you to contact us to discuss your needs further.