Anti-Fatigue Mats
With a wealth of industry experience, the team at Relay Floor Systems have been supplying high-quality anti-fatigue mats to a wide range of commercial environments. Based in Staffordshire, our dedicated team are ideally located to serve Birmingham and further afield.
Here at Relay Floor Systems, we pride ourselves on providing you with tailored floor solutions to suit a wide range of environments to ensure you get the maximum benefit from your newly installed flooring.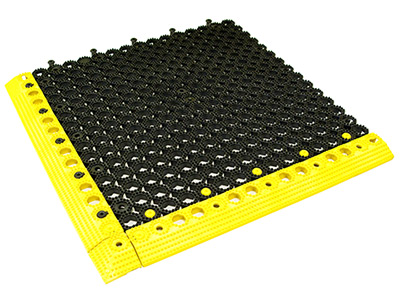 Our anti-fatigue mats ensure you receive the best of both comfort and functionality. Standing all day can lead to health problems, including circulatory and back issues. We aim to provide unparalleled levels of quality customer service and never tire of going the extra mile for our highly-valued customers. Consequently, our anti-fatigue mats come complete with workstation mats, bonded matting that is tailored to suit a variety of irregularly shaped rooms and interlocking, modular mats in both open and solid construction formats.
We understand that matting of excellent quality is one of the most effective ways to protect your employees from absorbing the daily shocks that the body is exposed to when standing throughout the day. Therefore, we customise our matting to suit the style of space you have and your individual needs.
We supply anti-fatigue matting to the area of Birmingham and further afield in a wide range of compounds and designs to suit various budgets. Over the years, we have built up a solid reputation for providing unparalleled levels of high-quality customer service, alongside industry leading products you can rely on.
In addition to our anti-fatigue matting and standard bubble matting, we can also provide anti-fatigue, bespoke bubble matting, that is fully customised and made to order. Once your measurements are with us, we'll do the rest and supply you with the flooring you require within an agreed time frame
If you would like more information on the services we offer across Birmingham and further afield, we welcome you to contact our dedicated team on 01543 258889
Areas We Cover
For more information about Anti-Fatigue Mats please contact us on:
01543 258889